Average nutritional values
of which saturated fatty acids
Girasoli with Artichokes: one more excellence, a stuffed girasoli for a unique and balanced dish that will immediately involve you on the freshness of our artichokes; an optimal cooking performance for such a large raviolo.
PRODUCT TYPE
Gluten-free dietary product.
STORAGE METHODS
Store chilled at a temperature not higher than + 4 ° C.
SHELF LIFE
50 days at controlled temperature.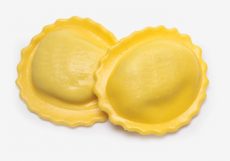 Features
Grana Padano DOP
Low sodium content
Low content of saturated fats
No dyes
No hydrogenated fats
No added preservatives
No sugars