Average nutritional values
of which saturated fatty acids
Cappelletti: a thin and golden sheet to embrace and bring out the best seasoned cured ham 24 months strictly from Italian breeding; ideal in soup, very good dry.
PRODUCT TYPE
Gluten-free dietary product.
STORAGE METHODS
Store chilled at a temperature not higher than + 4 ° C.
SHELF LIFE
50 days at controlled temperature.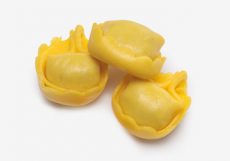 Features
Grana Padano DOP
Low sodium contentLow content of saturated fats
No dyes
No hydrogenated fats
No added preservatives
No sugars