Average nutritional values
of which saturated fatty acids
Egg Tagliatelle
According to the Emilian tradition, a laminated pasta to capture and match any flavour to be wrapped around a fork enhancing the best of gluten-free fresh pasta.
PRODUCT TYPE
Gluten-free dietary product.
STORAGE METHODS
Store chilled at a temperature not higher than + 4 ° C.
SHELF LIFE
50 days at controlled temperature.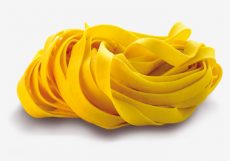 Features
Features
Low sodium content
Low content of saturated fats
No dyes
No hydrogenated fats
No added preservativesì
No sugars
Lactose-free