Average nutritional values
of which saturated fatty acids
Egg Tagliolini
Long and thin, perfect in soup but even more combined with our line of sauces & pesto "Sapori con amore", for a dish that enhances all the flavors of our ingredients.
PRODUCT TYPE
Gluten-free dietary product.
STORAGE METHODS
Store chilled at a temperature not higher than + 4 ° C.
SHELF LIFE
50 days at controlled temperature.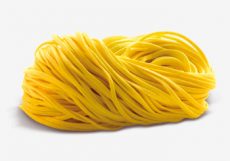 Features
Low sodium content
Low content of saturated fats
No dyes
No hydrogenated fats
No added preservatives
No sugars
Lactose-free