Average nutritional values
of which saturated fatty acids
Pumpkin ravioli: an important pumpkin filling; what about with amaretti or mustard? We have created this stuffing after trying and finding the perfect balance for a sweet organic pumpkin to lead the point of envying the traditional Mantuan recipe.
PRODUCT TYPE
Gluten-free dietary product.
STORAGE METHODS
Store chilled at a temperature not higher than + 4 ° C.
SHELF LIFE
50 days at controlled temperature.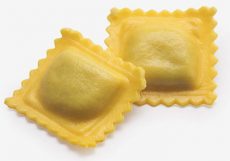 Features
Grana Padano DOP
Low sodium content
Low content of saturated fats
No dyes
No hydrogenated fats
No added preservatives
No sugars