SUGAR FREE

•

GLUTEN FREE

• HIGH FIBER CONTENT
Gluten-free preparation formulated for people intolerant to gluten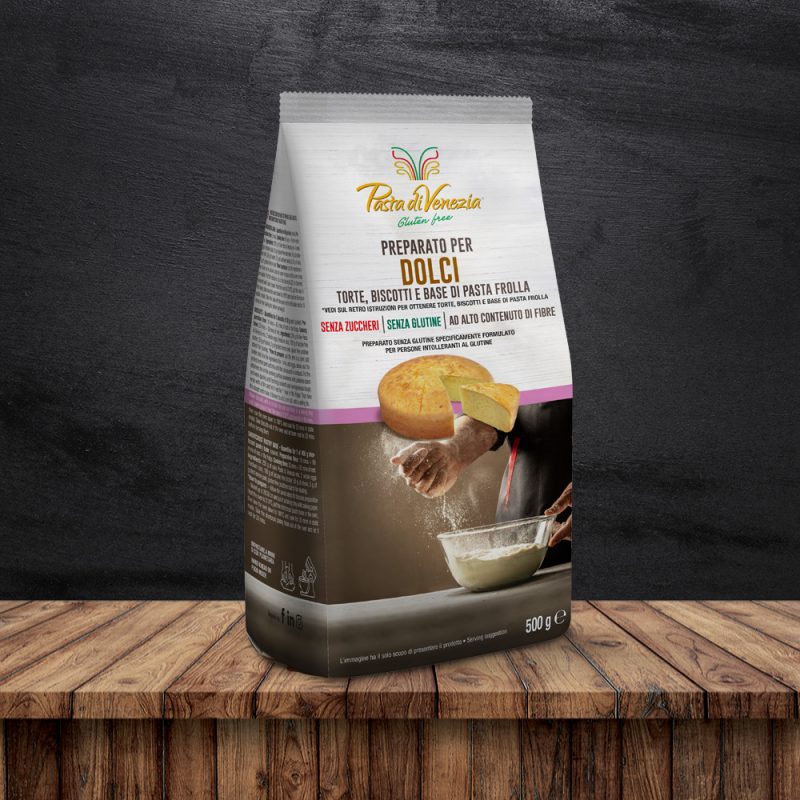 Average nutritional values:

Average values for 100 g of Mix

*For 100 g of Bread using our recipe

*For 100 g of biscuits and shortcrust pastry base as per instructions

Energy value
1.408 kJ
333 kcal
1.301 kJ
312 kcal
1.952 kJ
467 kcal

Fats

0,4 g
15,4 g
23,5 g
of which saturated
fatty acids
0,1 g
2,3 g
16,2 g

Carbohydrates

73,5 g
33,3 g
53,7 g
of which
sugars
0,2 g
0,1 g
0,1 g
Fiber
11,1 g
8,2 g
9,0 g

Proteins

3,21 g
5,83 g
5,76 g
Salt
0,02 g
1,31 g
0,13 g
Fecola di patate, farina di riso, farina di miglio bruno, maltitolo, addensanti: gomma di guar, idrossipropilmetilcellulosa; fibra vegetale.
Potato starch, rice flour, brown millet flour, maltitol, thickeners: guar gum, hydroxypropylmethylcellulose; vegetable fiber.
PRODUCT TYPE
Gluten-free dietary product,
naturally lactose-free, high-fiber content.
STORAGE METHODS
Keep in a cold and dry place.
SHELF LIFE
12 mesi.


Featurs
Features
No sugars
Gluten free
High fiber content
Naturally lactose-free
Low content of saturated fats
Low sodium content
No dyes
No added preservatives Girasoli ai Carciofi con crema di pomodoro, finferli e mandorle
Eliminate la cotenna dal guanciale e tagliatelo a fettine sottili e quindi a listarelle.
Prendete ora una padella antiaderente e scaldatela a fiamma dolce, aggiungete il guanciale e lasciatelo rosolare qualche minuto avendo cura di mescolare di tanto in tanto con un mestolo.