Mix for
Gluten free fresh pasta
SUGAR FREE

•

GLUTEN FREE

• SOURCE OF FIBERS
Gluten-free preparation specifically formulated for people intolerant to gluten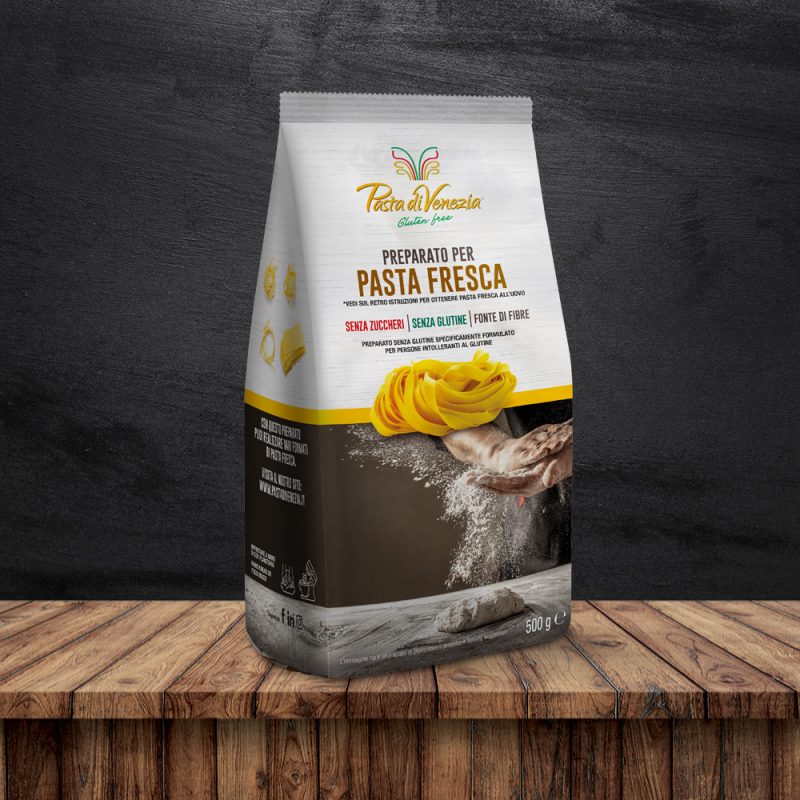 Average nutritional values:

Average values for 100 g of Mix

*For 100 g di Focaccia using our recipe

Energy value
1.489 kJ
351 kcal
750 kJ
179 kcal

Fats

0,4 g
5,7 g
of which saturated
fatty acids
0,3 g
1,3 g

Carbohydrates

83,7 g
26,1 g
of which
sugars
0,1 g
0,1 g

Fiber

5,7 g
5,0 g

Proteins

2,21 g
3,27 g
Salt
1,66 g
0,77 g
Preparation for gluten-free bread, focaccia and pizza base. Specifically formulated for people intolerant to gluten.
Corn starch, potato starch, rice flour, thickeners: guar gum; salt.
PRODUCT TYPE
Gluten-free dietary product,
naturally lactose-free, high-fiber content.
STORAGE METHODS
Keep in a cold and dry place.
SHELF LIFE
12 mesi.


Caratteristiche
Senza zuccheri
Senza glutine
Ad alto contenuto di fibre
Naturalmente privo di lattosio
Basso contenuto di grassi saturi
Senza sodio
No coloranti
No conservanti aggiunti



Features
Features
No sugars
Gluten free
High fiber content
Naturally lactose-free
Low content of saturated fats
Low sodium content
No dyes
No added preservatives Girasoli ai Carciofi con crema di pomodoro, finferli e mandorle
Eliminate la cotenna dal guanciale e tagliatelo a fettine sottili e quindi a listarelle.
Prendete ora una padella antiaderente e scaldatela a fiamma dolce, aggiungete il guanciale e lasciatelo rosolare qualche minuto avendo cura di mescolare di tanto in tanto con un mestolo.