Average nutritional values
of which saturated fatty acids
Girasoli with Artichokes:
one more excellence, a stuffed girasoli for a unique and balanced dish that will immediately involve you on the freshness of our artichokes; an optimal cooking performance for such a large raviolo.
Ingredients:
Mixture (45%): Mais starch, Hen's eggs, yolk (20%), Water, Potato starch, Rice flour, Thickener: Guar gum, Extra virgin olive oil, Salt.
Filling (55%): Artichoke puree (40%), lactose-free Ricotta cheese (delactose milk whey, delactose milk, delactose milk cream, salt, E270), semifinished gluten-free (mais flour, sunflower oil, carammelized sugar), Grana Padano DOP (milk, salt, rennet, preservative: lisozyma (from eggs), vegetal fiber.
PRODUCT TYPE
Gluten-free dietary product.
STORAGE METHODS
Store chilled at a temperature not higher than + 4 ° C.
SHELF LIFE
60 days at controlled temperature.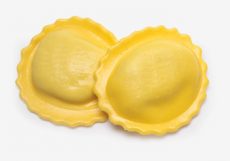 Features
Grana Padano DOP
No dyes
No added preservatives
Lactose-free
Gluten-free