Average nutritional values
of which saturated fatty acids
Cappelletti:
A thin and golden sheet to embrace and bring out the best seasoned cured ham 24 months strictly from Italian breeding; ideal in soup, very good dry.
Ingredients:
Mixture (75%): corn starch, eggs yolk (20%), water, potato starch, rice flour,
Thickener: Guar gum, extra virgin olive oil, salt.
Stuffing (25%): crued ham (50%), mortadella, Grana Padano DOP cheese (milk, salt, rennet, preservative: lysozyme (from eggs), gluten-free bread crumbs (mais flour, sunflower oil, carammelized sugar), rosemary, nutmeg, sage, vegetal fiber.
PRODUCT TYPE
Gluten-free dietary product.
STORAGE METHODS
Store chilled at a temperature not higher than + 4 ° C.
SHELF LIFE
60 days at controlled temperature.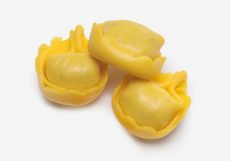 Features
Grana Padano DOP
No dyes
No added preservatives
Lactose-free
Gluten-free